First of all, I had a wonderful weekend. I accomplished a lot of scrapbooking, ate too much, stayed up later than I meant to, laughed, and remembered that I am an adult, dadgummit!
Then I came home to the incredible news that I had won a FREE ticket to the Creative Estates Conference coming up in April in Phoenix, Arizona! AND my SIL – yeah, she won too!!! Think that's God telling us we need a Mommy Weekend away together? We were two out of the three winners. CRAZY!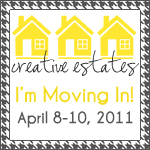 Now, I've just got to get busy working on sponsors for airfare, meals, hotel . . . you know. Anyone interested? Even small sponsors of $25 or $50 will be helpful. I will be highlighting the sponsors on my blog frequently between now and April. You will be able to find all of their buttons on the right hand side of my blog . . . and if you're a sponsor who wants to give a large donation, contact me at MelissaStuffBlog at gmail dot com and we can definitely work out something to also advertise your company throughout the weekend of the event.
So cool! What a nice gift – something to really look forward to.
A quiet hotel room. Eating out. Being with adults. Reading a book. An uninterrupted shower. Putting makeup on. Sleeping in.
And all that blog and creative stuff too.
Woo-hoo!!!