With all of the stuff I do on my blog, the one thing that I get the most FREE stuff from is Swagbucks.
That's a big statement. But it is 100% true.
I know some of you don't get it, don't trust it or just don't want to mess with it, but I wish I could sit down with you for just a few minutes and show you how easy and how rewarding it is.
It's FREE. You sign up. You add the tool bar and then you search the web as usual. I even use the tool bar to navigate from one page to the next. And periodically I make Swagbucks for doing that. That's it.
Then once I have 450 Swagbucks, I can get a $5 gift certificate to Amazon. If you combine it with the new Amazon Moms program, you get FREE 2-day shipping on any order of any amoutn (certain items are not included) for 3 months. Which means when you trade in your Swagbucks for Amazon cards, you can buy something as cheap as $5 and get FREE shipping! Two day shipping, at that.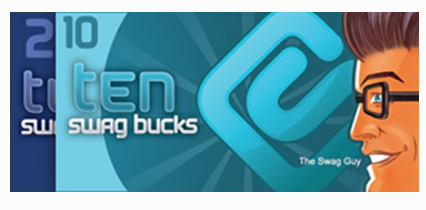 If you haven't signed up, join today! Then search, search, search! You can earn double, triple, quadruple what you normally earn on Fridays because they are MegaSwagbuck days.
I've already redeemed hundreds of dollars worth of Amazon giftcards and still have points left in my account. You could be reaping the same rewards. I promise I don't do anything but use Swagbucks to move from one site to another and as my search engine.