The crazier my life gets the more I crave organization. I've now resorted to labeling everything. Spice jars. Drawers. Baskets. Bins.
It makes me feel better to know that everything has a place, and when I put a label on it, everyone else knows where that place is. I might have control issues, but we won't talk about that now.
Mabel's Labels has helped save my sanity! They have incredibly durable labels that stick to anything. I have labeled sippy cups, backpacks, lunchboxes, clothes, shoes, spice canisters, drawers, bins, boxes . . . pretty much if it can be labeled, I've used Mabel's Labels to label it.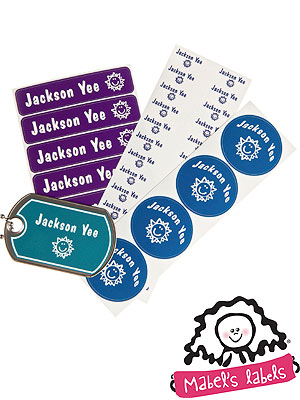 Labeling makes me so happy that I want to make sure I share it with you. You can win your own set of custom Household Labels by entering below.
Mandatory Entry: Share your best organization tip.
Extra Entries: (Please leave a separate comment for each of these that you complete so you get the maximum number of entries.)
1. Follow MelissaStuff by GFC, RSS feed, Twitter, Facebook, Networked Blogs or email. (+1 for each)
2. List this giveaway on a linky or post it on your blog and leave the link. (+1 for each)
3. Enter any other giveaway on MelissaStuff. (+1 for each)
4. What kind of labels could you use from Mabel's Labels?
5. Follow Mabel's Labels on Twitter, blog, Facebook and newsletter. (+1 for each)
Please make sure you leave an email address where you can be reached if it is not listed in your Google profile.
Good Luck! Contest ends at midnight on October 19th and the winner will have 24 hours to respond by email.
** I previously received a set of samples for review purposes; all opinions expressed in this post are completely mine.**