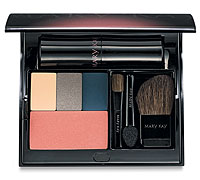 If you have never tried out Mary Kay's products, let me share some of the best!
Satin Hands - Loved for its super-softening results that you feel instantly, this long-standing favorite cleanses, exfoliates and moisturizes in three easy steps. Available in Fragrance-Free and Peach.
Mary Kay Compact - Customize your perfect color palette of eye and cheek colors or powder with this sleek compact's patented† magnetic refill system. Also holds applicators and a Mary Kay® Creme Lipstick or NouriShine® Lip Gloss
TimeWise 3-in-1 Cleanser – this cleanser doesn't just clean. It also exfoliates and freshens. It's a timesaver for this busy mommy . . . and probably the only way I could fit in all three of those in my daily routine.
TimeWise Age Fighting Moisturizer – this moisturizer is specifically formulated to help reduce the appearance of fine lines and wrinkles. The combination to oily formula that I used helps absorb oil and provide a matte foundation for your makeup as well.
TimeWise Daytime Solution SPF 25 – put on this product as a line of defense between your skin and the sun. Wearing this helps prevent continued sun damage, keeping your skin looking healthier and more vibrant for a
longer period of time.
TimeWise Night Solution – a concentrated delivery system of nutrients and vitamins directly to your skin so that you look reenergized and healthy.
Lauren will be giving away a bottle of this Velocity cologne in the Blogmania giveaway: