Giveaway: Mary Kay Skincare System
About 10 years ago, before marriage and before kids, when I had money to buy the things I wanted – I used Mary Kay's skin care systems. I used
Velocity
which is their youth skincare and I tried their
TimeWise products
which are supposed to keep elasticity and prevent wrinkling. Then came marriage and kids and a budget that only had enough room for the free skincare products I could get at CVS or the grocery store.
When I was given the opportunity to try out the Mary Kay –
TimeWise collection
, I jumped at it. I'm definitely in need of the help with wrinkles . . . they're coming on strong now that I've hit 30. I was provided with the travel kit which was perfect. I can easily carry it with me wherever I go and for me it made it a lot more practical.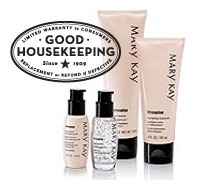 The set came with cleanser, moisturizer, daytime serum and nighttime serum. It comes in Normal to Dry and Combination to Oily. I chose the Combination to Oily.
TimeWise 3-in-1 Cleanser
– this cleanser doesn't just clean. It also exfoliates and freshens. It's a timesaver for this busy mommy . . . and probably the only way I could fit in all three of those in my daily routine.
TimeWise Age Fighting Moisturizer
– this moisturizer is specifically formulated to help reduce the appearance of fine lines and wrinkles. The combination to oily formula that I used helps absorb oil and provide a matte foundation for your makeup as well.
TimeWise Daytime Solution SPF 25
– put on this product as a line of defense between your skin and the sun. Wearing this helps prevent continued sun damage, keeping your skin looking healthier and more vibrant for a
longer period of time.
TimeWise Night Solution
– a concentrated delivery system of nutrients and vitamins directly to your skin so that you look reenergized and healthy.
Overall I really liked the products and the way they worked with my skin. I'm not one to make outlandish claims, but I thought I could see a difference in some of my extra lines just days after starting this routine.
You can purchase these products in the
travel size for $44
. Or you can purchase
the fullsize set
(which should last you for several months) for $90.
If you would like to try it out before you buy it, you can enter to win
one of the travel size sets (your choice of skin type)
right here.
Mandatory Entry:
Must be a Google follower of MelissaStuff and tell me
your favorite Mary Kary product
(with link).
Extra Entries
: (Please leave a separate comment for each of these that you complete so that you get the maximum number of entries.)
1. Follow MelissaStuff by
RSS feed
or email subscription (box to the right).
2.
Sign up to host your own Mary Kay party
(catalogue or in person). 5 Extra Entries
3. Follow
MelissaStuff on Twitter.
4. List this giveaway on a linky or post it on your blog and leave the link.
5. Become a friend of the
MelissaStuff page
on Facebook.
6.
Enter any other giveaway
on MelissaStuff.
7.
Place an order through this Mary Kay website.
(5 Extra Entries)
Please make sure you leave an email address where you can be reached if it is not listed in your Google profile. Good Luck!
Contest ends at midnight on 7/21/2010 and the winner will have 24 hours to respond by email.
**All opinions expressed in this post are completely mine.**